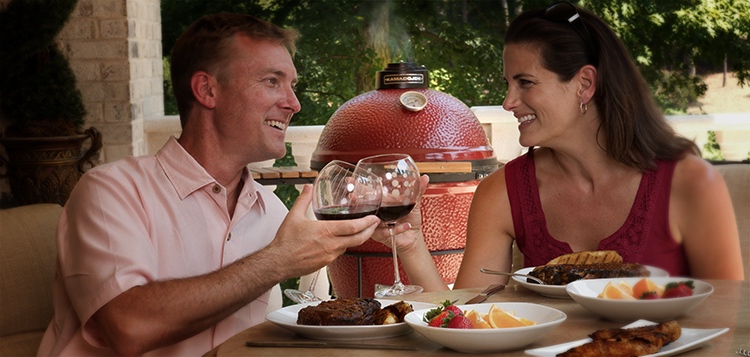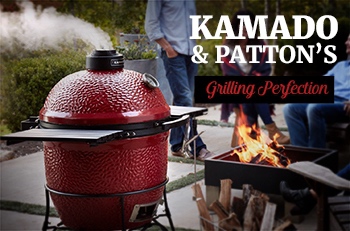 Standard Configuration
Includes a powder coated cast iron cart with locking casters and HDP side shelves and handle. All grills come with the Divide & Conquer flexible cooking system and slide-out ash drawer.
Stand Alone Configurations
These grills are the same dimensions as our standard configuration, and intended for use in grill tables and outdoor kitchens. Available in either black powder coated galvanized steel or stainless steel bands and hinge.
Grill Specifications
Colors: Red
Dimensions 46.5" wide by 48" high by 28" deep (118.1 cm by 121.9 cm by 71.1 cm)
Cooking Surface 18" Diameter, 256 square inches (650 square centimeters)
w/Grill Expander 407 square inches (1,034 square centimeters)
Net Weight 188 pounds (85 kilograms)
Heat Range 225°F – 750°F+ (82°C – 399°C)
Build Materials
Base/Lid High Fire Heat-Resistant Ceramics
Glaze Heat-Resistant Ceramic Coating
Top Vent Powder Coated Cast Iron
Cooking Grate 304 Grade Stainless Steel
Fire Box/Fire Ring High Fire Heat-Resistant Ceramics
Fire Grate Powder Coated Cast Iron
HDP Shelves and Handle
Bands/Hinge Powder Coated Galvanized Steel or Stainless Steel
Draft Door 304 Grade Stainless Steel
Cart Powder Coated Cast Iron
Divide & Conquer Flexible Cooking System
Slide-Out Ash Drawer